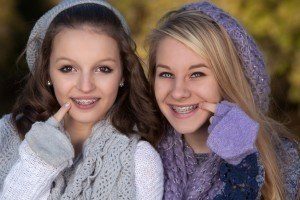 What are short term orthodontics? They're braces that straighten the way your teeth look in less than a year. In most cases, closer to 6 to 8 months. FastBraces are different than traditional orthodontics, in that they address the way the front of your smile looks – not your entire bite.
With FastBraces, we can help you correct teeth that look:
   

Gapped

   

Crowded

   

Crooked

   

Misaligned
In just a few months, you'll have a smile that looks dramatically straighter than before, without having to worry about wearing braces for years. FastBraces are a great alternative to alignment tray orthodontics, when you don't want to worry about taking the braces in and out or losing your aligners. Because they only address your front teeth, they work faster than other types of orthodontics.
What Do They Look Like?
FastBraces come in two different styles: Traditional and Cosmetic. The cosmetic version uses tooth-colored brackets and wires, so that the braces blend in with your smile. Most people won't notice them during casual conversation.
Wearing them is easier than you might think. If you've put braces off because of how long the treatment will take or you don't want to straighten the teeth in the back of your mouth, then these short term orthodontics are an excellent choice.
We offer FastBraces at both our Southampton and Doylestown locations. That way you can straighten your smile close to home, without having to drive all over town looking for an orthodontist.
Visit our certified FastBraces dentist at Advanced Dental Group to find out other orthodontic options that may be right for you including Invisalign. Call us today to schedule a consultation!