Invisalign orthodontics are braces made from clear, removable alignment trays. Our certified Invisalign dentist makes it easy for you to straighten your teeth at our Southampton and Doylestown, PA locations without conventional orthodontics or having to make a trip to a 3rd party orthodontist.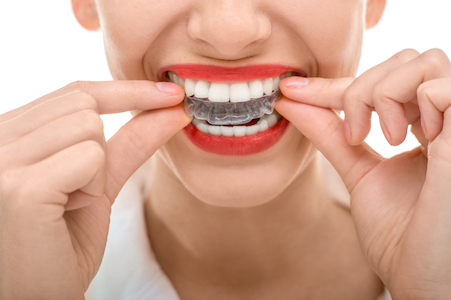 Each set of aligners gently guides your teeth into the proper position. Because we send the trays home with you ahead of time, you don't have to experience any uncomfortable adjustments in our office. In fact, most people report that they are the most comfortable type of orthodontic treatment available!
Made to Seamlessly Blend in to Everyday Life
Because Invisalign is removable, it makes it easier for you to keep your smile healthy. When you wear Invisalign, you can enjoy the ability to:
   

Eat all of your favorite foods

   

Easily brush and floss your teeth as normal

   

Appear as if you are not wearing braces

   

Have shorter, quicker follow-up appointments

   

Avoid brackets or wires that could rub your cheeks
Just remove your aligners during meals and for oral hygiene purposes. It's that easy! When you choose Invisalign, you can avoid the common problems and concerns that traditional orthodontic patients often experience.
Who Is A Candidate For Invisalign?
We provide treatment for both adults and teens. If you're ready for braces, then there is a good chance that Invisalign is right for you. Even if you have worn braces in the past and experienced relapse from not wearing your retainer, Invisalign can correct the problem.
Enjoy more freedom, better oral health, and improved aesthetics. Call Advanced Dental Group to find out if Invisalign or other orthodontic options are right for you. Ask about our financing options!