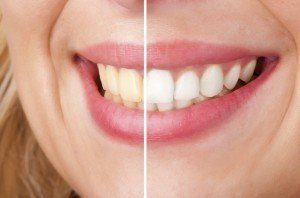 Whitening your smile is one of the simplest, most effective ways to improve the appearance of your teeth. As easy as the process is, you will have wished that you had done it years ago!
Advanced Dental Group offers two types of whitening treatments for you to choose from:
In-Office Process
Jump start your whitening process with our in-office treatment. The appointment takes about an hour and safely lifts several shades of stain from your enamel. Then to enhance your results, we will send you home with a set of custom fitted whitening trays to continue lifting stains and keep your teeth bright for life.
Take Home Trays for Your Convenience
Your set of custom molded trays holds prescription strength gel against the curved contours of each tooth. That way you can get even, dramatic whitening that no store-bought kit is capable of providing. Most people see full results after wearing their trays an hour a day, for 10 to 14 days. Then, just touch up a few days at a time, every 3 to 6 months.
Complimentary Refills
Are you dedicated to keeping your smile as healthy as possible? Are you here every 6 months for your preventive cleaning and exam? As our gift to you, we will send each whitening patient home with a refill whitening gel after every 6-month cleaning. That way you can help to keep your teeth white for years!
Stop by Advanced Dental Group in Southampton or Doylestown to make sure your smile is healthy and get started whitening your teeth right away. We also offer different types of dental veneers for a complete smile makeover. Call us today!